Kids Ball Pit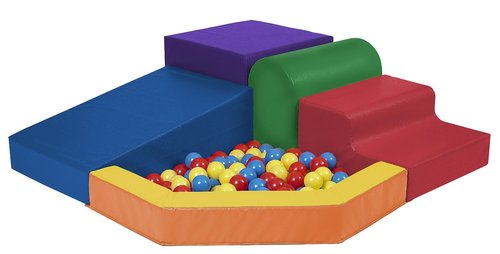 Kids Ball Pit
Product Description
Ball Pit for Kids: Read Why Toddlers and Infants Love Them
A lot of parents remember going to certain play areas when they were young children and diving into a kids ball pit. This can be an amazing experience. In ways perhaps more enjoyable than diving into a pool, especially for smaller children and toddlers.
The idea behind them was quite simple. Some daycare areas and other places had them, often combined with larger play lands. Some play lands would have a trampoline on one side and a ball pit nearby, some would have a slide that was aimed at a ball pit, while others would have just a big bouncy house filled with balls. Now, your child can also enjoy the excitement of a ball pit for kids.
An inflatable ball pit is a joy that you cannot explain unless you have actually had the pleasure of diving in. They are inflatable so you can easily bounce to your heart content amid balls that bounce along with you. However, some ball pits may also come with a mini trampoline to give older kids even more of a ball bouncing experiencing.
Either way, the balls that are often found in pits are made of a very soft plastic that will bend if a child happens to land on it while bouncing. There is also no real danger of these balls breaking things if the child gets carried away and begins to toss them around. This does not mean that you should leave your child alone in the ball pit. Especially if it is a ball pit that you plan to use with smaller children.
For the most part, ball pits are safe for any aged child to enjoy. They are fun to use because they combine the best of all things for smaller children and larger ones as well. Can you name a child who does not like bouncing and balls to play with?